When I started blogging I heard that to be a successful blogger you need to meet with other bloggers, get new idea's from them, work with them to make yourself accepted in your niche.
Profit?
You will have a blog where other blogger will come and share their experience, it will enhance your posts, give an add-on perspective for your readers, can give you word of mouth publicity. I can go on listing the profits but the only issue I faced "it is not easy to get to know other bloggers".
You can go on other blogs and go on commenting strings to get attention of other bloggers but it's a lengthy process, than how would you go about it.
The answer to this question is BlogEngage.
What is BlogEngage
BlogEngage is a social network for the bloggers, it's a place to meet with bloggers. You can meet around 350 bloggers and that number is growing day by day.
It's a place where you can share your content and other bloggers can read and offer their viewpoint. It has an active community which will take a look at your blog, read your posts and comment on them.
Can it increase traffic for your blog?
You might already have a Facebook fan page up for your blog, will it increase the traffic for your blog. Any social network will not increase the traffic until you actively participate in its activities.
The same rule is true for BlogEngage also, If you just want to join so that you can share your content and get some traffic, it's not the place for you. If you are willing to read other bloggers idea's, share your insight and ready to be friend with other bloggers, it's a great platform to do that.
Other than getting to know so many established bloggers, the other benefit is getting traffic on your blog. Once you start participating in the community you will see many new people will visit your blog and you will get extra visibility.
Whatever you have to offer the community, BlogEngage community will give back more than that. So join and start giving.
BlogEngage Services
There is a onetime joining fees of $29, this covers any number of blog for lifetime. This is just for making sure that people who are joining, is serious about participating in the community. This is one of the reason Blogengage has an active community.
Blogengage also have RSS syndication services, which allow you to syndicate your contents.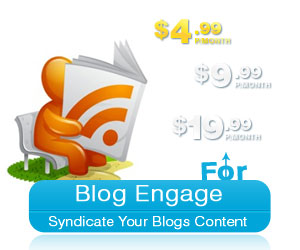 They allow 4 service memberships, each comes with different benefit. You can pay monthly or pay for the year.
Along with the RSS Syndication to BlogEngage, their service will publish your content on portfolio of social media websites such as
Blog Engage (PR5), Blog Serp (PR3), Top Blogged (PR3), RSS Leak (PR2),
Blogger Ink (PR3), Tag Serp (PR2), and Blogger Tag (PR2)
This is a great way to build backlinks for your posts from high PR sites. Their service also offers 100% adsense revenue sharing, so on your posts your adsense ads will be showing and if anybody click on that you will get 100% revenue.
Also they offer a spotlight feature where your blog will be featured on BlogEngage spotlight area, a great way to gain some attention.
For all details you can check at their RSS Syndication Page.
If you are using BlogEngage Services, let us know how it is working out or jump in and get socially engage with Bloggers.